Saturday September 22nd we will be participating in this WOD. It supports a GREAT cause, so be there!
Dear Friends,
The motivation behind PaleoKits and our other deliciously healthy PaleoGoods has always been to help fund this mission. We're proud to say we've been working with CrossFit Affiliates to expand our program in other cities, and we now have 10 Local Steve's Clubs across the United States!
Help us continue to bring Steve's Club to other communities by participating in our Beat the Streets Fundraiser. It's a "suggested donation" WOD ("workout of the day") that you can ask your gym to host any time between September 15-23. Details are below – I hope you can participate!
As always, thank you for your support.
Steve
Proceeds from Beat the Streets fund local Steve's Clubs in other cities     
CrossFit Affiliates nationwide host/participate between September 15-23
Suggested Donation: $25/person
WORKOUT2 person TEAMS, AMRAP 2 minutes:40 KB Swings30 Burpees20 Pullups10 SquatsFor scaling, weight and more about this FUN day,
click here
!
Help us bring fitness,
nutritional guidance and mentorship to at-risk youth.

Pumpkin Spice Krunch Bar
The flavor of Fall! Pumpkin Krunch is here!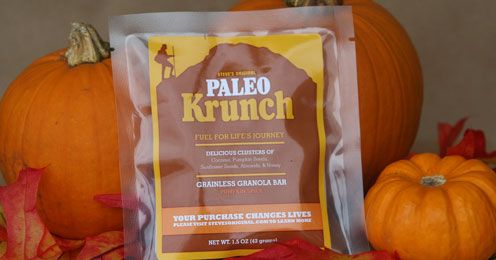 Thank you for your continued support! Your purchase changes lives.
To Support Steve's Club and Order Your PaleoGoods: